---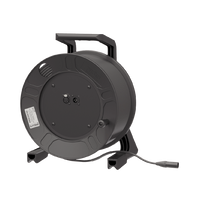 Cable Reel with DMX / AES Audio Cable
PRX350 is a HighFlex 110ohm DMX / AES Audio cable assembled on a lightweight, extremely strong and impact resistant reel.

The cable end is terminated using a male Neutrik 3-Pin XLR connector while the chassis side is fitted with both male and female Neutrik 3-Pin XLR connectors, allowing signal link-through.
The dark grey jacket of the PMX222 cable allows easily identification of the 110Ω DMX-AES cable, so as not to confuse them from standard microphone cables.


 Two 22 AWG tinned copper conductors are protected by dual shielding layers, providing high immunity against noise and interference caused by external devices.